We are driven by the need to explore and create. As part of that commitment, we draw on synergies and transfers of knowledge from other industry sectors.
We have developed previously unimagined applications for fibre composite technology; we push boundaries in our development of workable solutions whose key goal is even greater reliability
There is only one route to saving weight and keeping costs in check: fibre composite technology.
Fibre composite materials are pre-destined for lightweight construction as the material can easily be tailored to match bespoke structural demands.
Large-scale, complex parts clearly offer the greatest potential for weight savings compared to metal, and that is precisely where we excel.
We integrate pre-manufactured fittings into composite structures that deliver effective fire protection and use laser technology and 3D tracking systems for perfect alignment and orientation.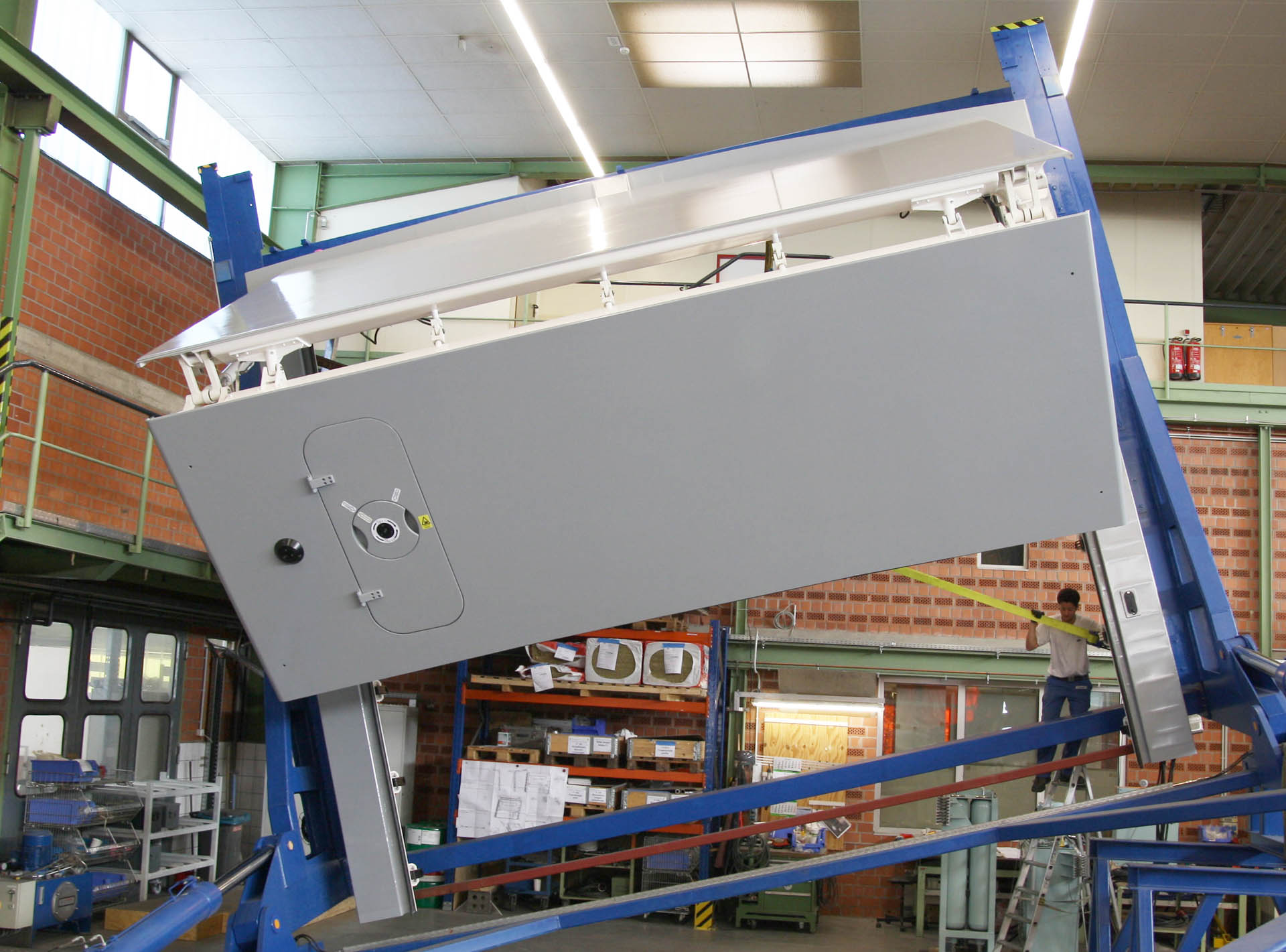 Proteccore (Ballistic) and Fire resistance Tests
Proteccore® technology for bulletproof fibre composite panels. For:
great flexural stiffness.
low weight, up to 60% weight reduction compared to steel plates. 
protection is provided on both sides.
excellent heat insulation. 
You can add effective security with our Proteccore® ballistic protection system and remain virtually invisible with a low radar signature and our CRP-based electromagnetic shielding system.
We have a certificate for flame retardancy according to the IMO.
Award-winning patented technology.
We integrate carbon resistance heating technology into the mould structure for maximum dimensional stability:
no heat distortion
no warping
ultra-light weight thanks to carbon fibre reinforced polymer (CFRP) sandwich construction
super-fast cycle times as a result of heating precise areas of material.
Our solution uses 90% less energy than external heating
PATENTED SYSTEM
For maximum dimensional stability for almost every size of mould. Our solution uses 90% less energy than external heating.
WINNING CARBON HEATING TECHNOLOGY
This outstanding technology was recognised with several important awards. Winner of JEC Award in Paris, the FEE Innovation Award in Berlin, and Winner of the Seifriz Prize
DESIGNING THE PANELS
• assessing different types of flax fibre • using natural cork as core material • achieving comparable properties to conventional E-glass with PVC foam core
WHY FLAX FIBRES?
• best sustainable alternative • very good mechanical properties • low or even negative carbon footprint • available on the market today • good vibration absorbance and strong sound insulation • ideal for high levels of comfort required in top-end products
BEND, STRETCH AND SHEAR TESTING OF FLAX FIBRES IN A BIO-BASED EPOXY MATRIX
• flax showed greater stability than standard lay-up • tension test in accordance with DIN EN ISO 527
WHY CORK CORE?
• explored as an organic core material for interior sandwich panels • very low environmental impact • alternative to current foam cores • naturally regrows in 7 to 10 years • highly water-repellent • no rot from water absorption • superior shock and impact protection • excellent sound insulation due to high density and granulate structure
RENEWABLE MATERIALS RESEARCH
Building with flax-fibre sandwich panels, the renewable alternative:
Near identical mechanical properties to conventional composite panels
Only slightly heavier
Better fire resistance / retardance
Flax fibres are hollow, giving more stability on impact
Cork core has better acoustic properties than conventional panels
Ultimate sustainability – cork regrows without harming the tree